US net long bets rose to $18.46 billion from $17.60 billion against the major currencies during the previous week, according to the report of the Commodity Futures Trading Commission (CFTC) covering data up to March 21 released on Friday March 24. The Federal Reserve hiked rates 0.25 percentage points at conclusion of its March 14-15 policy meeting and economic data during the week were positive.
The Federal Reserve hiked the fed funds rate to range of 0.75% to 1%. The central bank highlighted an improving labor market and greater confidence among consumers and businesses, but acknowledged that there hasn't been a substantial change in economic conditions. The dot plot, which reflects policy makers' projections for short-term rates, indicated two more hikes this year. The Fed's stance on pace of future hikes was deemed less hawkish than anticipated since recent positive inflation data and hawkish comments by central bank policy maker had raised expectations for more hawkish stance of the central bank and faster pace of rate hikes. Economic data were positive: Consumer Price Index, which measures the cost of living, advanced to 2.7% year-on-year in February after 2.5% rise in January and consumer price inflation rose by a seasonally adjusted 0.1% last month, in line with expectations. Retail sales rose just 0.1% in February after big gains in the previous two months. President Trump confirmed his support for healthcare laws proposed by Republican lawmakers aimed at rolling back wide insurance coverage established by legislation passed under president Obama and known as Obamacare. Trump warned Republican lawmakers that if the healthcare bill fails to pass as some Republicans oppose it claiming it does not go far enough by just modifying but not eliminating Obamacare, it would cause "political problems". Investors increased the dollar bullish bets after Fed rate hike for fourth time in eleven weeks. As is evident from the Sentiment table, sentiment deteriorated for Canadian dollar, British Pound and Swiss Franc. And the Australian dollar is now the only major currency held net long against the US dollar after dramatic increase in short bets turned the net long balance in Canadian dollar into a sizable net short balance.
The euro sentiment improved significantly with final inflation data confirming the positive trend in consumer prices as inflation rose 2% year-on-year in February, in line with expectations. The European Central Bank had signaled a shift in accommodative policy stance stating at its recent policy meeting there was no need to counter deflation any longer. The net short euro position roughly halved falling $2.8bn to $2.66bn, its lowest in more than a year. Investors built the gross longs and cut shorts by 11318 and 10047 contracts respectively. The British Pound sentiment continued to deteriorate despite data showed positive 0.7% monthly inflation after 0.5% disinflation in January and Bank of England decision to leave policy unchanged. The net short position in British Pound widened $0.27bn to $8.4bn as investors cut both the gross longs and shorts by 9780 and 9054 contracts respectively. The bearish Japanese yen improved marginally as the Bank of Japan decided to leave policy unchanged. The net short position narrowed $0.27bn to $7.5bn. Investors cut both the gross longs and shorts by 524 and 4834 contracts respectively.
The Canadian dollar sentiment reversed to bearish as the $1.6bn net long balance turned into a negative $1.8bn against the dollar. Investors cut dramatically the gross longs and increased shorts. The bullish Australian dollar sentiment intensified marginally despite a rise in unemployment to 5.9% in February from 5.7% in previous month. The net longs rose by $0.2bn to $3.46bn. Investors built both the gross longs and shorts. The sentiment toward the Swiss franc deteriorated with the net shorts widening by $0.4bn to $1.51bn. Investors cut both the gross longs and shorts.
CFTC Sentiment vs Exchange Rate
| | | | | |
| --- | --- | --- | --- | --- |
| March 21 2017 | Bias | Ex RateTrend | Position $ mln | Weekly Change |
| CAD | bullish | positive | -1828 | -3420 |
| AUD | bullish | positive | 3453 | 183 |
| EUR | bearish | positive | -2658 | 2783 |
| GBP | bearish | positive | -8408 | -274 |
| CHF | bearish | positive | -1507 | -393 |
| JPY | bearish | positive | -7510 | 260 |
|   |   | Total | -18459 |   |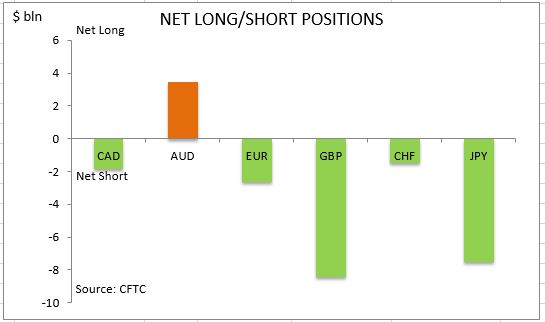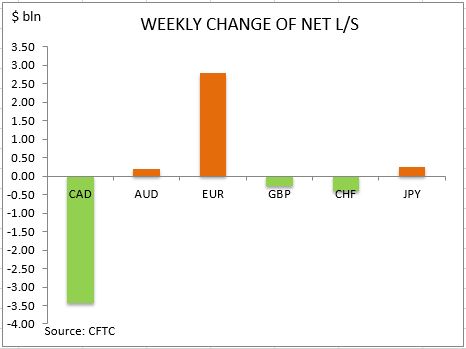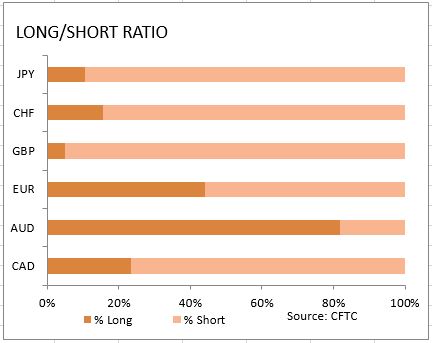 Source: Market analysis