US dollar bullish bets rose to $17.60 billion from $15.26 billion against the major currencies during the previous week, according to the report of the Commodity Futures Trading Commission (CFTC) covering data up to March 14 released on Friday March 17. Economic data during the week were positive and strong nonfarm payroll report reinforced March rate hike expectations.
No new policy plans were announced by President Trump during the week. President Trump supported healthcare laws proposed by Republican lawmakers aimed at rolling back wide insurance coverage established by legislation passed under president Obama and known as Obamacare. A jump in private employment indicated by Automated Data Processing Inc was confirmed by 235 thousand addition in nonfarm payrolls in February, making a rate hike at March 14-15 meeting virtual certainty. Traders of fed funds futures were pricing in a 91% probability the Fed would hike rates 0.25 percentage points, according to data from the CME Group's FedWatch tool. Rising export, import and producer prices together with inflation in consumer prices reinforced expectations of impending rate hike. Investors increased the dollar bullish bets for third time in ten weeks after strong labor market data and hawkish comments by central bank officials. As is evident from the Sentiment table, sentiment deteriorated for all currencies except for the euro and Swiss franc. And Canadian dollar together with the Australian dollar remain the only two major currencies held net long against the US dollar.
The euro sentiment improved after the European Central Bank left policy unchanged but stated there was no need to counter deflation any longer and improved the euro-zone inflation and growth outlook for 2018. The net short euro position narrowed by about 30% falling $2.4bn to $5.44bn. Investors built the gross longs and cut shorts by 10610 and 7864 contracts respectively. The British Pound sentiment deteriorated significantly as the Parliament approved the bill authorizing the UK government to start the formal process of the EU exit. The net short position in British Pound widened $1.9bn to $8.1bn as investors cut the gross longs and increased shorts by 19480 and 6200 contracts respectively. The bearish Japanese yen sentiment intensified significantly as the net short position widened $1.8bn to $7.77bn. Investors cut the gross longs and built shorts by 3640 and 12957 contracts respectively.
The bullish Canadian dollar sentiment moderated considerably as the net longs fell by $0.6bn to $1.59bn against the dollar. Investors cut the gross longs and increased shorts. The bullish Australian dollar sentiment moderation continued as the net longs fell at roughly half of the previous week's pace by $0.6bn to $3.27bn. Investors cut both the gross longs and shorts. The sentiment toward the Swiss franc improved with the net shorts narrowing by $0.12bn to $1.11bn. Investors built the gross longs and covered shorts.
CFTC Sentiment vs Exchange Rate
| | | | | |
| --- | --- | --- | --- | --- |
| March 14 2017 | Bias | Ex RateTrend | Position $ mln | Weekly Change |
| CAD | bullish | positive | 1592 | -587 |
| AUD | bullish | positive | 3270 | -597 |
| EUR | bearish | positive | -5440 | 2418 |
| GBP | bearish | positive | -8135 | -1924 |
| CHF | bearish | positive | -1114 | 122 |
| JPY | bearish | positive | -7770 | -1772 |
| | | Total | -17598 | |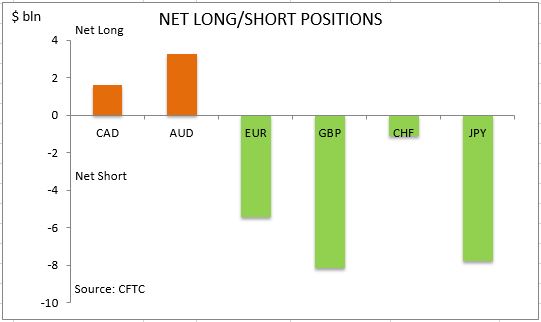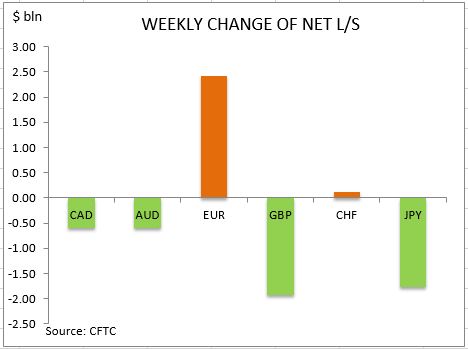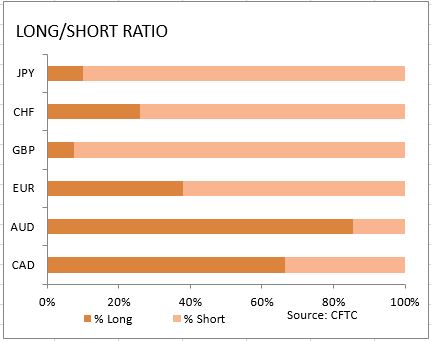 Source: Market analysis