US dollar net long bets fell to $4.53 billion from $7.82 billion against the major currencies during the previous week, according to the report of the Commodity Futures Trading Commission (CFTC) covering data up June 27 released on Friday June 30. The Federal Reserve chair Janet Yellen reaffirmed Fed's gradual rate hike while economic data were mixed during the week.
Existing and new home sales rose in May while durable goods orders fell 1.1% following an upwardly revised 0.9% fall in April. Capital expenditures, measured as orders for non-defense capital goods, declined 0.2%. This decline will be subtracted from GDP, while investors hoped economic growth would accelerate in second quarter. On monetary policy front Fed chair Yellen, at a discussion in London, repeated her stance that rates overall would remain low for some time and would be raised gradually. Philadelphia Fed President Patrick Harker, a voting member of Federal Reserve's policy committee, restated his view that another rate hike was needed this year and said the balance sheet reduction process should be on "autopilot". In other economic news the Conference Board's consumer confidence index rose to 118.9 in June from 117.6 in May, another improvement in soft data while actual spending data show no improvement. Against the background of weak data investors reduced net long dollar position. As is evident from the Sentiment table, sentiment improved for euro, Canadian and Australian dollars. And the euro and Australian dollar remain the two major currencies held net long against the US dollar.
The euro bullish sentiment strengthened noticeably after remark by European Central Bank President Draghi "a considerable degree" of stimulus is needed in euro-zone, instead of "very substantial" level used in earlier speeches. This was interpreted as a signal the ECB considers winding down its quantitative easing program. The net long euro position rose $2.05bn to $8.29bn. Investors built the gross longs and cut shorts by 12426 and 1417 contracts respectively. The British Pound sentiment deteriorated slightly despite a hawkish comment of Andrew Haldane, Bank of England's chief economist and known dove, that the "process of withdrawing " some of the monetary stimulus would be prudent in the second half of the year.. The net short position in British Pound widened $0.17bn to $3.13bn as investors reduced the gross longs and covered shorts by 6918 and 5389 contracts respectively. The bearish Japanese yen sentiment intensified as the net short position in yen rose $1.22bn to $6.83bn. Investors cut the gross longs and built shorts by 1244 and 10147 contracts respectively.
The Canadian dollar sentiment improved despite as slower rise in consumer price index in May. The net short Canadian dollar position narrowed $2.5bn to $3.75bn. Investors increased the gross longs and covered shorts. The Australian dollar sentiment improved as the net longs rose by $0.36bn to $1.5bn. Investors built both the gross longs and shorts. The sentiment toward the Swiss franc deteriorated despite a rise in the balance of trade May surplus to 3.4 billion Swiss francs from 1.96 billion in April. The net shorts widened by $….bn to $…bn. Investors cut the gross longs and built shorts.
CFTC Sentiment vs Exchange Rate
| | | | | |
| --- | --- | --- | --- | --- |
| June 27 2017 | Bias | Ex RateTrend | Position $ mln | Weekly Change |
| CAD | bearish | positive | -3752 | 2497 |
| AUD | bullish | positive | 1497 | 358 |
| EUR | bullish | positive | 8294 | 2054 |
| GBP | bearish | positive | -3133 | -167 |
| CHF | bearish | negative | -608 | -225 |
| JPY | bearish | negative | -6831 | -1227 |
|   |   | Total | -4533 |   |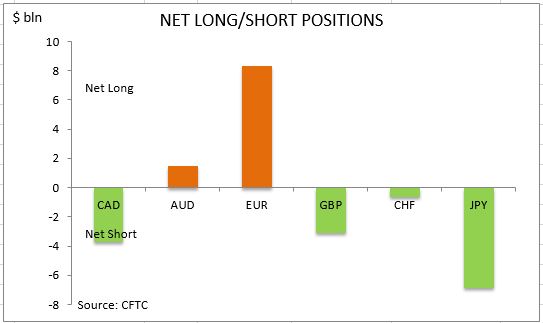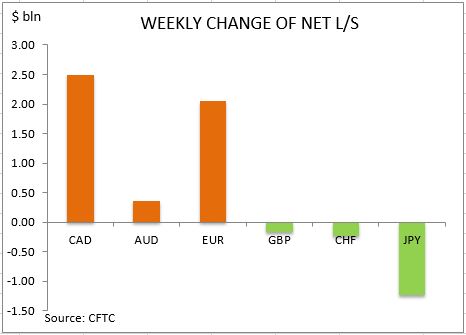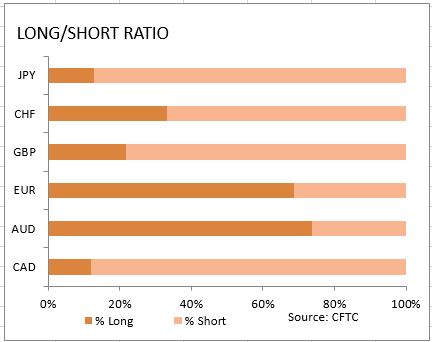 Source: Market analysis