US dollar bullish bets fell to $15.28 billion from $18.46 billion against the major currencies during the previous week, according to the report of the Commodity Futures Trading Commission (CFTC) covering data up to March 28 released on Friday March 31. Economic data during the week were mixed and Trump administration's failure to secure support for healthcare reform caused a pause in recent stock market rally with investors wondering about President Trump's ability to deliver on his promises of economic stimulus measures to boost US growth.
President Trump withdrew his proposed health care law designed to replace Obamacare, spurring concerns about his ability to push pro-growth legislation through Congress after his failure to garner support for health care bill, his first legislative initiative. Expectations of stimulus measures such as tax cuts and increased infrastructure spending drove recent stock market rally, and signs that proclaimed policies will not materialize weigh on economy's growth prospects and hurt dollar's strength. Economic data were mixed: New Home Sales rose in February while Existing Home Sales fell, the rise in Durable Goods Orders slowed in February as did the growth in services and manufacturing sectors evidenced by Services and Manufacturing PMIs. Investors reduced the dollar bullish bets for eighth time in twelve weeks. As is evident from the Sentiment table, sentiment deteriorated for Canadian dollar and Swiss franc. And the Australian dollar is still the only major currency held net long against the US dollar.
The euro sentiment improved markedly with flash Manufacturing and Services PMI readings indicating accelerating expansion in German and French manufacturing and services sectors in March. The net short euro position fell $1.6bn to $1.10bn, its lowest since 2014. Investors built the gross longs and cut shorts by 4058 and 7735 contracts respectively. The British Pound sentiment as retail sales grew 1.4% in February following a downwardly revised 0.5% contraction the previous month. The net short position in British Pound narrowed $0.3bn to $8.1bn as investors increased the gross longs and covered shorts by 2469 and 1300 contracts respectively. The bearish Japanese yen sentiment improved as the balance of trade for February turned positive after showing deficit in January. The net short position narrowed $1.5bn to $5.98bn. Investors built the gross longs and covered shorts by 7847 and 5959 contracts respectively.
The Canadian dollar sentiment continued to deteriorate as inflation slowed in February: the net short Canadian dollar position widened $0.3bn to $2.11bn. Investors increased both the gross longs and shorts. The bullish Australian dollar sentiment continued to intensify as net longs rose by $0.6bn to $4.1bn. Investors built the gross longs and covered shorts. The sentiment toward the Swiss franc deteriorated with the net shorts widening by $0.5bn to $2.1bn. Investors cut the gross longs and built shorts.
CFTC Sentiment vs Exchange Rate
| | | | | |
| --- | --- | --- | --- | --- |
| March 28 2017 | Bias | Ex RateTrend | Position $ mln | Weekly Change |
| CAD | bearish | negative | -2110 | -282 |
| AUD | bullish | negative | 4055 | 602 |
| EUR | bearish | negative | -1071 | 1587 |
| GBP | bearish | positive | -8101 | 308 |
| CHF | bearish | negative | -2066 | -558 |
| JPY | bearish | negative | -5986 | 1525 |
|   |   | Total | -15277 |   |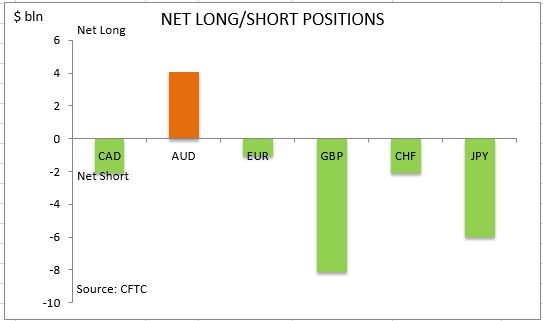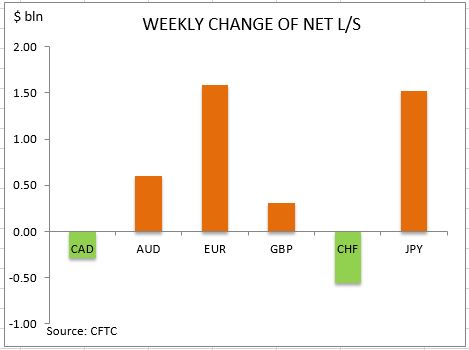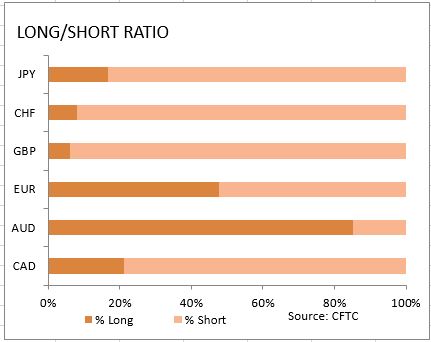 Source: Market analysis