US dollar net long bets fell to $6.48 billion from $8 billion against the major currencies during the previous week, according to the report of the Commodity Futures Trading Commission (CFTC) covering data up June 13 released on Friday June 16. Economic data were mixed during the week ahead of Federal Reserve policy meeting.
Producer price index, which measures the average price of goods and services producers receive in wholesale market, declined in May. Together with weak recent data like disappointing May jobs growth, decline in total vehicle sales and widening of trade deficit this points to weak demand for goods and services and further decline in inflation while Federal Reserve considers tightening its monetary policy. At the same time wholesale inventories fell 0.5% on month in April and expected replenishing of depleted stocks by wholesalers will contribute to stronger growth in second quarter. Recent weak economic data notwithstanding, investors expected the Federal Reserve rate hike at June 13-14 meeting, with Fed funds futures traders pricing in a 96% likelihood of a hike. Against the background of weak data investors reduced net long dollar position. As is evident from the Sentiment table, sentiment improved for all major currencies except for British Pound and Australian dollar. And the euro remains the only major currency held net long against the US dollar.
The euro sentiment improved as the Q1 euro-zone GDP was revised upward to 0.6% on quarter from 0.5% second reading and the European Central Bank dropped its guidance on future rate cuts as it left its policy unchanged. The net long euro position rose $0.64bn to $11.07bn. Investors reduced both the gross longs and shorts by 662 and 5706 contracts respectively. The British Pound sentiment deteriorated despite a 2.9% rise in the headline inflation in May, and a fall in April balance of trade deficit to £2.5 billion from £3.9 billion and 0.2% rise in industrial production in April following 0.5% decline previous month. The net short position in British Pound widened $0.18bn to $3.14bn as investors increased both the gross longs and shorts by 405 and 3130 contracts respectively. The bearish The Japanese yen sentiment moderated despite a downward revision of Q1 GDP to 0.3% on quarter from 0.5% preliminary estimate. The net short position in yen narrowed $0.55bn to $5.74bn. Investors cut both the gross longs and shorts by 5576 and 10050 contracts respectively.
The Canadian dollar sentiment improved despite the unemployment rate edged to 6.6% in May from 6.5% in April as the labor force participation increased. The net short Canadian dollar position narrowed $0.34bn to $6.69bn. Investors increased he gross longs and covered shorts. The Australian dollar sentiment deteriorated as the Q1 GDP slowed to 0.3% on quarter after 1.1% growth in Q4 2016. The net shorts rose by $105 million to $114 million. Investors cut both the gross longs and shorts. The sentiment toward the Swiss franc improved as unemployment declined to 3.1% in May from 3.3% in April while headline inflation rose to 0.5% from 0.4%. The net shorts narrowed by $0.29bn to $1.87bn. Investors reduced both the gross longs and shorts.
CFTC Sentiment vs Exchange Rate
| | | | | |
| --- | --- | --- | --- | --- |
| June 13 2017 | Bias | Ex RateTrend | Position $ mln | Weekly Change |
| CAD | bearish | positive | -6692 | 335 |
| AUD | bearish | positive | -114 | -105 |
| EUR | bullish | negative | 11074 | 642 |
| GBP | bearish | positive | -3142 | -181 |
| CHF | bearish | negative | -1866 | 286 |
| JPY | bearish | negative | -5741 | 549 |
| | | Total | -6481 | |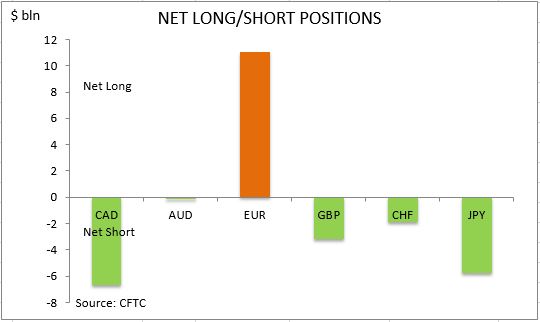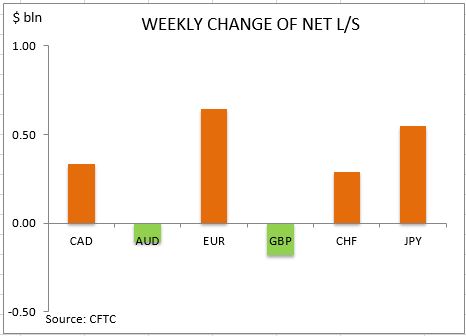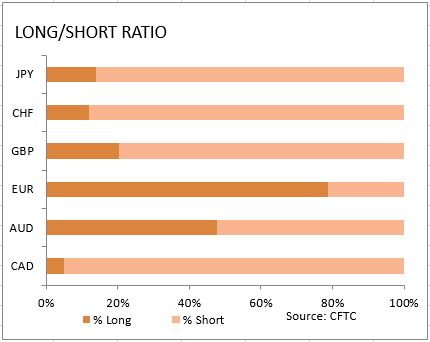 Source: Market analysis