US dollar bullish bets rose to $7.82 billion from $6.48 billion against the major currencies during the previous week, according to the report of the Commodity Futures Trading Commission (CFTC) covering data up June 20 released on Friday June 23. The Federal Reserve raised the federal funds rate and indicated it would start reducing its balance sheet "this year" while economic data were mixed during the week after Federal Reserve policy meeting.
The consumer price index fell 0.1% in May and the headline inflation slowed to 1.9% in May from a five-year high of 2.7% just four months ago. May retail sales fell 0.3%, their biggest drop in 16 months. Nevertheless, the Federal Reserve hiked rates to between 1% and 1.25% and Fed chair Janet Yellen said she still expects inflation to hit 2% target next year, attributing recent declines to areas such as telecom. The central bank indicated no change in plans for one additional rate hike in 2017 while it will start to "shrink gradually" its $4.5 trillion balance sheet "this year", without details at what pace and how much. Against this background investors built net long dollar position. As is evident from the Sentiment table, sentiment improved for all major currencies except for euro. And the Australian dollar became the second major currency together with euro held net long against the US dollar.
The euro sentiment deteriorated significantly as inflation declined on month in May in euro-zone and balance of trade surplus fell in April. The net long euro position fell $.4.83bn to $6.24bn. Investors built both the gross longs and shorts by 3018 and 37219 contracts respectively. The British Pound sentiment improved as the Bank of England left the policy unchanged but the three votes for a rate hike from 5-to-3 vote indicated two more members voted for a hike than in May. The net short position in British Pound narrowed $0.18bn to $2.97bn as investors increased both the gross longs and shorts by 10073 and 8236 contracts respectively. The bearish Japanese yen sentiment moderated despite a Bank of Japan decision to leave short term deposit rate at minus 0.1% and recording a 203 billion yen trade deficit in May following 482 billion yen surplus in April. The net short position in yen narrowed $0.14bn to $5.6bn. Investors built both the gross longs and shorts by 5338 and 4744 contracts respectively.
The Canadian dollar sentiment improved as new motor vehicle sales rose in April. The net short Canadian dollar position narrowed $0.44bn to $6.25bn. Investors increased the gross longs and covered shorts. The Australian dollar sentiment turned bullish as unemployment fell to 5.5% in May from 5.7% in April while labor force participation rose. The $0.1bn net shorts turned into $1.14bn net long. Investors built the gross longs and covered shorts. The sentiment toward the Swiss franc improved markedly as Swiss National Bank left interest rate at minus 0.75%. The net shorts fell by $1.48bn to $0.38bn. Investors built the gross longs and cut shorts.
CFTC Sentiment vs Exchange Rate
| | | | | |
| --- | --- | --- | --- | --- |
| June 20 2017 | Bias | Ex RateTrend | Position $ mln | Weekly Change |
| CAD | bearish | negative | -6249 | 443 |
| AUD | bearish | positive | 1139 | 1253 |
| EUR | bullish | positive | 6240 | -4834 |
| GBP | bearish | positive | -2966 | 176 |
| CHF | bearish | positive | -383 | 1484 |
| JPY | bearish | positive | -5603 | 138 |
| | | Total | -7822 | |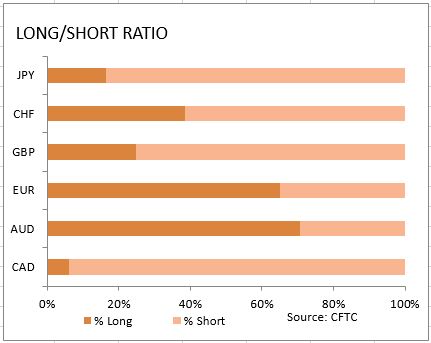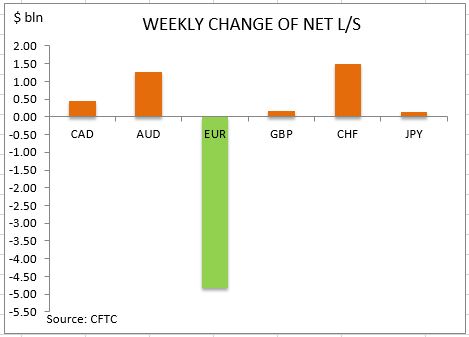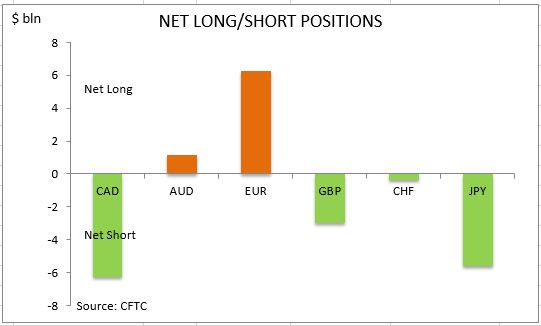 Source: Market analysis