US net long bets fell to $14.68 billion from $ 15.28 billion against the major currencies during the previous week, according to the report of the Commodity Futures Trading Commission (CFTC) covering data up to April 4 released on Friday April 7. Economic data were mostly positive during the week as the final reading of fourth quarter GDP was revised upward to 2.1% from 1.9% while the personal consumption expenditure index, central bank's preferred gauge of inflation, rose above Fed's target rate of 2% to 2.1% in February.
Upward revision of Q4 GDP and inflation above central bank's target rate indicate US economic growth accelerates supporting the scenario of rising rate hikes planned by the Federal Reserve. However while the personal consumption expenditure (PCE) headline index rose to 2.1% from 1.9% in January, core PCE index stayed at 1.8% and rose just 0.2% on month after 0.3% growth in January. And personal income and spending also slowed in February from 0.5% to 0.4% on month and 0.2% to 0.1% respectively. Manufacturing data also softened: the Markit Manufacturing Purchasing Manager's Index fell to 53.3 in March from 54.2 the previous month, and the reading of manufacturing index from the Institute for Supply Management for March slipped to 57.2 from 57.7. Factory orders also slowed: from upwardly revised 1.5% in January to 1% in February. On the positive side the balance of trade deficit narrowed in February to $43.6 billion from $48.2 billion in previous month. And central bank officials' comments confirmed policy makers support at least two more rate hikes this year. Investors reduced the dollar bullish bets for ninth time in thirteen weeks. As is evident from the Sentiment table, sentiment deteriorated for euro, Australian and Canadian dollars. And the Australian dollar remains the only major currency held net long against the US dollar.
The euro sentiment deteriorated despite 0.1 percentage point decline in unemployment both in euro-zone and Germany: to 9.5% and 5.8% respectively in February. The net short euro position rose $0.45bn to $1.5bn. Investors cut both the gross longs and shorts by 8180 and 4698 contracts respectively. The British Pound sentiment improved despite slowing of expansion in both the manufacturing sector and construction in March as indicated by lower purchasing managers' indexes. The net short position in British Pound narrowed $0.35bn to $7.75bn as investors increased the gross longs and covered shorts by 4314 and 8716 contracts respectively. The bearish Japanese yen sentiment improved markedly despite a decline in inflation to 0.3% from 0.4% in previous month. The net short position in yen narrowed $0.8bn to $5.17bn. Investors cut both the gross longs and shorts by 1573 and 8954 contracts respectively.
The Canadian dollar sentiment continued to deteriorate as the balance of trade turned negative in February: the net short Canadian dollar position widened $0.15bn to $2.26bn. Investors increased both the gross longs and shorts. The bullish Australian dollar sentiment moderated as the Reserve Bank of Australia left policy unchanged: net longs fell by $0.31bn to $3.75bn. Investors cut the gross longs and built shorts. The sentiment toward the Swiss franc improved as retail sales growth remained at 0.6% on month in February. The net shorts narrowed by $0.3bn to $1.7bn. Investors cut both the gross longs and shorts.
CFTC Sentiment vs Exchange Rate
| | | | | |
| --- | --- | --- | --- | --- |
| April 04 2017 | Bias | Ex RateTrend | Position $ mln | Weekly Change |
| CAD | bearish | negative | -2256 | -147 |
| AUD | bullish | negative | 3751 | -305 |
| EUR | bearish | negative | -1522 | -451 |
| GBP | bearish | negative | -7751 | 349 |
| CHF | bearish | negative | -1726 | 339 |
| JPY | bearish | positive | -5173 | 813 |
|   |   | Total | -14678 |   |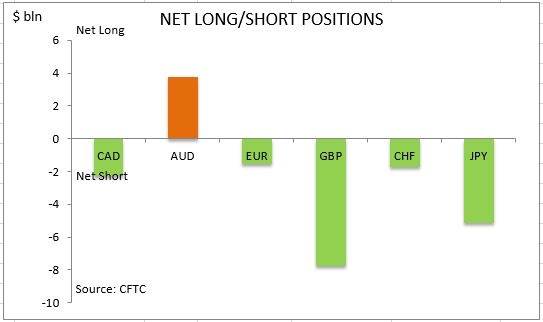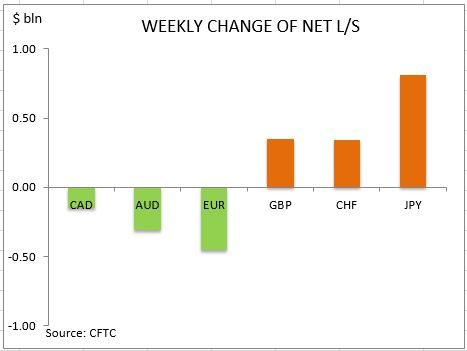 Source: Market analysis