US dollar net long bets slipped to $59 million from $76 million against the major currencies during the previous week, according to the report of the Commodity Futures Trading Commission (CFTC) covering data up to July 11 released on Friday July 14. Federal Reserve meeting minutes showed policy makers plan to start reducing central bank's holdings of Treasury bonds as economic data were mostly positive during the week with June nonfarm payrolls rising more than expected.
Minutes from the Federal Reserve's June meeting reaffirmed the central bank's measured approach to lifting rates and shrinking its $4.5 trillion balance sheet. Minutes showed several members were in favor of starting the reduction of the central bank's balance sheet while they were divided on further pace of interest rate hikes considering recent soft inflation readings. However the 222000 rise in US nonfarm payrolls in June was bigger than a 179000 gain expected. Average hourly earnings rose 0.2% after 0.1% gain in May. Unemployment rate inched to 4.4% from 4.3% but that is explained by rise in labor force participation rate to 62.8% from 62.7%. Continued indication of tight labor market strengthened the case for additional interest rate hike this year with further positive data confirming improving economic recovery. Services Purchasing Managers' Index from both Markit and the Institute for Supply Management rose in June, indicating continued expansion in services sector. And the Balance of Trade deficit edged to $46.5 billion in May from $47.6 billion in previous month. A decline in factory orders in May however pointed to weakness in manufacturing sector in second quarter. In light of mixed data investors reduced net long dollar position. As is evident from the Sentiment table, sentiment improved for all major currencies except for Japanese yen. And the Swiss franc joined euro and Australian dollar as the third major currency held net long against the US dollar.
The euro bullish sentiment strengthened further after European Central Bank minutes showed while officials didn't change the interest rate at June policy meeting they considered tapering of central bank's €60 billion monthly purchases of bonds. This was interpreted as a hawkish signal for euro. The net long euro position rose $1.0bn to $12.01bn. Investors built the gross longs and cut shorts by 4342 and 1982 contracts respectively. The British Pound sentiment improved following a hawkish comment by the Bank of England Monetary Policy Committee member Ian McCafferty the BoE should consider unwinding its £435 billion quantitative easing program. The net short position in British Pound narrowed $0.31bn to $1.94bn as investors cut both the gross longs and shorts by 7411 and 11040 contracts respectively. The bearish Japanese yen intensified despite a rise in average cash earnings and acceleration in machine tool orders in May. The net short position in yen jumped $4.03bn to $12.30bn. Investors cut the gross longs and built shorts by 2870 and 34219 contracts respectively.
The Canadian dollar sentiment improved drastically as building permits for May and housing starts in June rose, and unemployment rate fell to 6.5% from 6.6% in May. The net short Canadian dollar position narrowed $2.36bn to $0.67bn. Investors increased the gross longs and covered shorts. The Australian dollar sentiment improved as the balance of trade surplus jumped to $2.47 billion in May from $0.09 billion the previous month. The net longs rose by $0.33bn to $2.81bn. Investors cut both the gross longs and shorts. The sentiment toward the Swiss franc improved despite the May inflation decline to 0.2% from 0.5% in April while unemployment rate fell to 3.0% from 3.1% in May. The $15 million net short position turned into a net long of $42 million. Investors cut both the gross longs and shorts.
CFTC Sentiment vs Exchange Rate
| | | | | |
| --- | --- | --- | --- | --- |
| July 11 2017 | Bias | Ex RateTrend | Position $ mln | Weekly Change |
| CAD | bearish | positive | -666 | 2361 |
| AUD | bullish | positive | 2810 | 330 |
| EUR | bullish | neutral | 12007 | 1004 |
| GBP | bearish | positive | -1937 | 307 |
| CHF | bullish | negative | 27 | 42 |
| JPY | bearish | positive | -12299 | -4026 |
| | | Total | -59 | |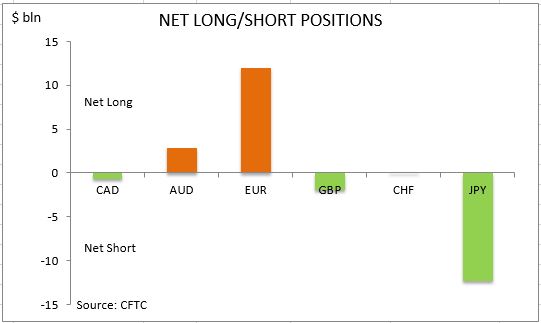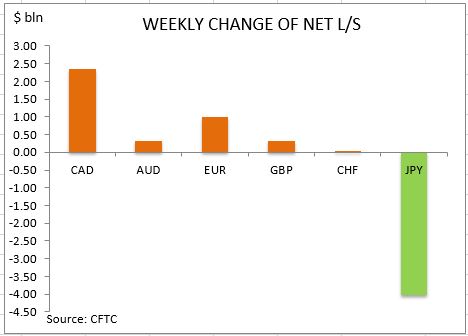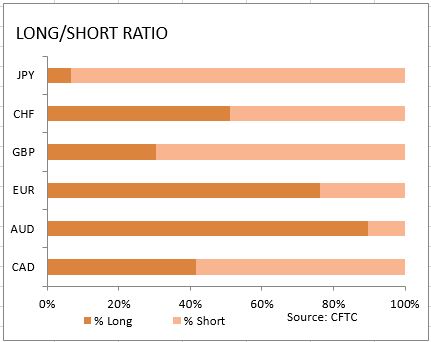 Source: Market analysis