S&P 500 and Nasdaq advance while Dow slips
US stocks closed higher on Monday led by gains in technology and materials stocks. The dollar edged higher adding to Friday's gains after stronger than expected June jobs report: the live dollar index data show the ICE US Dollar index, a measure of the dollar's strength against a basket of six rival currencies, gained 0.1% to 96.056. S&P 500 added 0.1% settling at 2427.43. The Dow Jones industrial average slipped less than 0.1% to 21408.52, with a 2.8% drop in Wal Mart shares outweighing gains in Visa and Nike. The Nasdaq composite index rose 0.4% closing at 6176.39.
Treasury yields declined after remarks by European Central Bank policy makers that any shift to tightening from current ultra-loose policy will not be soon as inflation is yet below the ECB target of near but just below 2%. Investors are focusing now on quarterly earnings with Citigroup, JP Morgan and Wells Fargo reporting their earnings on Friday.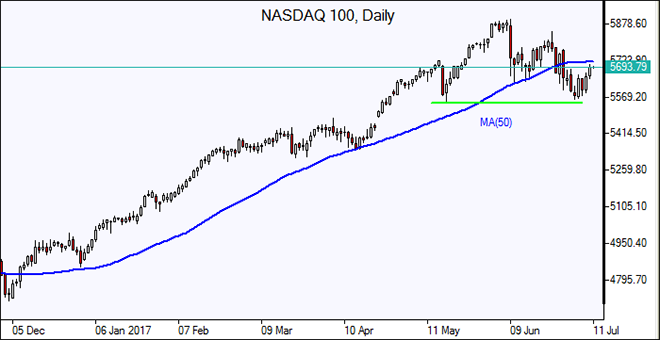 German stocks lead European markets
European stock indices finished higher on Monday led by German shares after upbeat exports data. Both the euro and British Pound ended extended losses against the dollar. The Stoxx Europe 600 index rose 0.4%. The DAX 30 closed 0.5% higher at 12445.92. France's CAC 40 gained 0.4% and UK's FTSE 100 added 0.3% to 7370.03. European stocks opened 0.1% – 0.3% higher today.
German stocks led European markets higher after Germany's statistics office Destatis reported German exports jumped 14.1% in May compared with a year ago due to strong demand from outside the European Union. German government bond yields declined further despite comments by ECB officials over weekend suggested the ECB is not planning a tapering of its €60 billion monthly purchases of bonds. Government bond yields have been falling last two weeks after policy makers of major central banks including Federal Reserve, ECB, Bank of England and Bank of Canada signaled a readiness to end the ultra-loose monetary policies as economic performance improved.
Asian stock indices are mostly mixed today as investors await Fed Chair Yellen's testimony on monetary policy on Wednesday. Nikkei closed 0.6% higher at 20195.48 as yen weakness against the dollar continued, with yen hitting four-month low. Chinese stocks are lower: the Shanghai Composite Index is down 0.3%, while Hong Kong's Hang Seng Index is 1.6% higher. Australia's All Ordinaries Index is up 0.1% despite continued rise in Australian dollar against the greenback.
Oil up on strong US demand expectations

Oil futures prices are extending gains today on strong demand outlook for coming weeks. Prices got a lift from a Bank of America Merrill Lynch report weekly US gasoline demand data "compares favorably to the five-year average and miles driven also continue to grow year-on-year." Prices ended higher previous day on talks Organization of the Petroleum Exporting Countries is considering putting a cap on how much oil Nigeria and Libya can produce. The two members were exempt from the OPEC agreement among major oil producers to cut around 1.8 million barrels per day (bpd) of production between January this year and March 2018. However OPEC exported 25.92 million bpd in June, 450,000 bpd more than in May as Nigeria and Libya increased output. September Brent crude gained 0.4% settling at $47.06 a barrel on London's ICE Futures exchange on Monday.
Source: Market reports