Dow closes at record high
US stocks ended higher on Wednesday as Federal Reserve chair Janet Yellen emphasized central bank's gradual approach to normalizing monetary policy. The dollar was little changed: the live dollar index data show the ICE US Dollar index, a measure of the dollar's strength against a basket of six rival currencies, inched up 0.01% to 95.768. The S&P 500 added 0.7% settling at 2443.25 lifted by gains in technology, real estate and materials stocks. All 11 main sectors finished higher. The Dow Jones industrial average closed at a fresh record high 21532.14 adding 0.6%, led by DuPont, Microsoft and Home Depot shares. Nasdaq rose 1.1% to 6261.17 for a fourth session of gains in a row.
Treasury yields inched lower after dovish testimony of Fed Chair Yellen. Yellen said "the evolution of the economy will warrant gradual increases in the federal funds rate over time to achieve and maintain maximum employment and stable price". She also noted the federal-funds rate "would not have to rise all that much further to get a neutral policy stance," the rate which will neither stimulate the economy to accelerate nor slow it down. Investors interpreted this as a hint that the tightening cycle would be shorter than anticipated. Market reaction to Fed's Beige Book was muted, which highlighted tight labor market saying a shortage of qualified workers has limited hiring and characterized US economic growth as "slight to moderate".
European stock indices ended firmly higher on Wednesday led by retailer stocks. The euro reversed previous session's gains against the dollar while British Pound gained back previous session's loss. The Stoxx Europe 600 index jumped 1.5%. Germany's DAX 30 rose 1.5% to 12626.58. France's CAC 40 outperformed ending 1.6% higher and UK's FTSE 100 index gained 1.2% to 7416.93.
Expectations for better corporate earnings supported market sentiment. With the European second quarter results season just around the corner, corporate earnings are forecast to increase by over 9% percent from the same period in 2016, according to Thomson Reuters I/B/E/S estimates.
Asian stocks rise on dovish Yellen comments

Asian stock indices are higher today as investors' risk appetite was buoyed by less hawkish comments f Fed chair Yellen and upbeat Chinese exports and imports data for June. Nikkei ended 0.01% higher at 20099.81 as the dollar slipped against the yen. Chinese stocks are higher: Shanghai Composite Index is 0.7% higher while Hong Kong's Hang Seng Index is up 1%. Australia's All Ordinaries Index is 1.1% higher despite continued rise in Australian dollar against the greenback.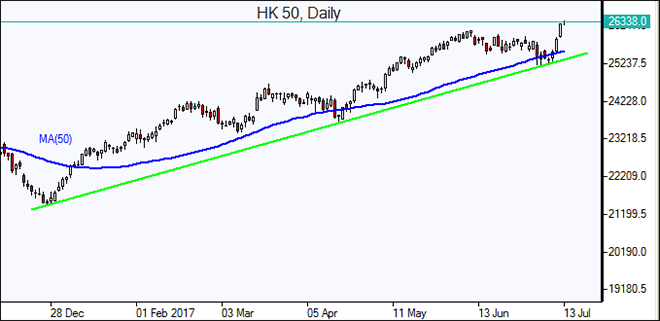 Oil slips on oversupply concerns

Oil futures prices are edging lower on renewed concerns about global glut. Prices rose yesterday after the US Energy Information Administration reported that domestic crude supplies dropped 7.6 million barrels last week. Inventories fell for a second week in a row. However EIA said US crude production edged up by 59,000 barrels a day to 9.397 million barrels a day last week. September Brent crude rose 0.5% to $47.74 a barrel on Wednesday on London's ICE Futures exchange.
Source: Market reports