Nasdaq and Dow advance while S&P 500 slips
US stocks closed little changed on Tuesday pairing early losses. The dollar weakened: the live dollar index data show the ICE US Dollar index, a measure of the dollar's strength against a basket of six rival currencies, fell 0.3% to 95.75. The S&P 500 slipped 1.9 points settling at 2425.53. Dow Jones industrial average gained less than a point closing at 21409.07. The Nasdaq index rose 0.3% to 6193.30 in a third winning session in a row.
The stock market rally spurred by expectations of stimulus measures such as tax cuts and infrastructure spending programs pledged by President Trump has stalled as investors question Trump administration's ability to deliver on stimulus measures. The President has been embroiled in political turmoil centered on allegations of Russian collusion in US presidential election, making the passage of pro-growth initiatives less likely. The news that the Senate is delaying its summer recess until the third week of August to give lawmakers more time to work on key legislative matters, such as a health-care bill, helped the market pare earlier losses. Today investors will focus on Fed Chair Janet Yellen's two-day testimony to lawmakers scheduled at 16:00 CET with the text of testimony coming out at 14:30 CET. She is expected to reaffirm central bank's plan on lifting rates at least once more this year and starting a reduction of its $4.5 trillion balance sheet.
European stock indices ended lower on Tuesday as investors adopted a wait and see approach ahead of US Federal Reserve chair Janet Yellen's testimony to Congress. The euro rose against the dollar while British Pound extended losses. The Stoxx Europe 600 fell 0.7%. Germany's DAX 30 lost 0.1% closing at 12437.02. France's CAC 40 retreated 0.5% and UK's FTSE 100 fell 0.6% to 7329.76. Markets opened 0.3%-0.4% higher today.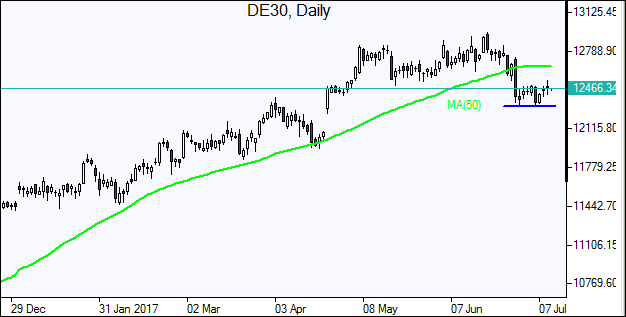 Asian stock indices are mixed today. Nikkei fell 0.6% to 20081.50 as yen weakness against the dollar continued. Both Toyota and Nissan shares lost 0.6%. Chinese stocks are mixed: the Shanghai Composite Index is 0.2% lower while Hong Kong's Hang Seng Index is up 0.7%. Australia's All Ordinaries Index is up 0.1% despite a stronger Australian dollar against the greenback.
Oil higher on US crude inventory draw expectations

Oil futures prices are rising today after the American Petroleum Institute reported 8.1 million barrel drawdown in inventories last week to 495.6 million barrels. Prices advanced yesterday as the Energy Information Agency cut its forecast for US production in 2018 by 1% to 9.90 million barrels a day. September Brent crude rose 1.4% to $47.52 a barrel on London's ICE Futures exchange on Tuesday. Today at 16:30 CET the Energy Information Administration will release US Crude Oil Inventories. Analysts polled by S&P Global Platts expect a decline of 2.6 million barrels in crude inventories.
Source: Market reports